Access to Electoral Rights – Hungary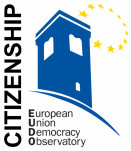 It will be argued here that extending citizenship to Hungarian minorities abroad, supplementing the citizenship of non-residents with voting rights, and the attempt to introduce active registration appear to serve the same purpose: preserving and enhancing the power of the ruling coalition. A paper by ANDRÁS BOZÓKI.
Download the analysis in pdf here.
EUDO Citizenship Observatory
Robert Schuman Centre for Advanced Studies
Access to Electoral Rights Report, RSCAS/EUDO-CIT-ER 2013/19
Badia Fiesolana, San Domenico di Fiesole (FI), Italy – Hungary